As we have discussed in previous articles, Protocol in the XXI Century and Origen of the Protocol, Protocol is a complex and transversal discipline with some challenges to face in the XXI century. The scientific research consulted has given us five challenges as a result. This will be the first article in a series of five where we will talk about all of them.
FIRST CHALLENGE: LACK OF KNOWLEDGE
The first challenge revolves around the general lack of knowledge about protocol, not only for the general public but also for digital and traditional media. If you are working in this profession, you know what I mean. If we went out on the street and asked the first ten people, we found that their answers would probably be between cutlery placement and royal issues if they knew what protocol is.
But we are by no means the first affirming this fact. Other professionals have said before that general society does not know what protocol is. It has been associated with unnecessary expenses, meals, etc. (Fuente Lafuente, 2013, p. 4). Words that have evoked other recent media articles –traditional and digital– denounce cases of politicians accused of spending excess money and associate this expense with protocol.
But let´s imagine for a moment that somebody would like to go deeper into the internet on the subject. What would happen?
Recently, there has been an explosion of protocol content online, either on websites or in blogs, video blogs… Anybody who would like to learn about our profession could quickly go online and do research. So, the question would be, what are they going to find?
María Gómez Requejo, project partner in Protocol Bloggers Point (PBP), a space dedicated to collecting all blogs in different languages that exist whose theme is protocol, wrote an article where she analysed this webspace. Her conclusions were as follows:
7,6% of the blogs collected in this space can be considered made by researchers from the protocol world.
The profile of the bloggers is divided into 15,8% amateurs and 84,2% professionals from all areas of the protocol/event sector.
Only a tiny percentage of professionals are researchers, therefore dealing with the subject from a scientific perspective.
The content is not only written in Spanish but also in English. There are bloggers from 11 different countries.
The specific topics of the blogs are eight, but the ones that collect most of the cases are four: communication, events, protocol and ceremonial, and personal image and etiquette.
After that, the author focuses on the publications around protocol with a scientific character. There is one in operation in this area, the Revista de Estudios Institucionales, edited by the UNED (in Spanish), and the magazine Compé published its last copy in 2014.
The second part of this great misunderstanding about protocol comes from the media. Both traditional and digital.
Carlos Fuente makes the first approach to the phenomenon of the protocol in media. In his opinion, there is a tendency to identify protocol and its official events with the royal environment. This has a direct consequence, which is none other than calling it strict and tight. Outside the official sphere, it fits in the good manners and how to behave. (Fuente Lafuente, 2013b, p. 170).
This vision generally conveyed by the media has a clear consequence: the social distortion of the concept. The general public learns from the media that discipline consists basically of parties, unnecessary montages, etiquette and other frivolities. Therefore, society and media relate protocol with extra expenses.
Regarding the media, we find a recent study where this aspect is analysed in digitised media –press, radio and TV– from 1979 to 2016 (De la Serna Ramos, 2017).
One of the things that research shows from the beginning is that learning what protocol is from media is impossible. And that with the emergence of digital media and social networks, the situation has nothing but worsened. The association of the term protocol is linked to subjects like clothing or social education only. The impression is that the media is not interested in whether the user is correct or not; they only need a headline that attracts readers. Saying «Pope Francis has broken protocol» has much more impact on the reader than «Pope Francis has stopped to talk to an acquaintance».
In short, the public's lack of awareness is a thing that has an "easy" solution with the dissemination of knowledge to a greater or lesser extent. But changing and correcting what people have been hearing time and again in the media is a whole different thing that adds up to an already difficult situation for protocol.
Despite this, De la Serna Ramos reaches four conclusions in her research:
It cannot be said that the term protocol is always misused in the media since the use is appropriate and rigorous in some cases.
Secondly, in the Spanish case, with the arrival of democracy, the discipline began to find its place in media related to the authorities and the political class.
On the other hand, in the first years of the XXI century, an increase in the improprieties of the term and the discipline is detected. This is linked to etiquette in the society pages again.
Finally, and in view that the situation is more negative than positive, De la Serna Ramos proposes a measure to improve this discipline in media: include protocol subjects in journalism degrees and studies. Currently, only two universities with these studies offer this option.
Therefore, this situation is complicated to reverse and represents the first major challenge that the protocol has in the XXI century. There is, without a doubt, a significant lack of awareness on the part of the public in general, and this does not seem to be improving in the light of the situation with the media as described above.
ACADEMY OF PROTOCOL & SOFT DIPLOMACY
BIBLIOGRAPHY
De la Serna Ramos, M. (2017). Tratamiento del protocolo en los medios de comunicación. Una aproximación. Revista de Estudios Institucionales, IV, 11-26.
Fuente Lafuente, C. (2013a). Los necesarios cambios en el Ceremonial de Estado. Compé. Revista Científica de Comunicación, Protocolo y Eventos, 4-19.
Fuente Lafuente, C. (2013b). Percepción de los medios de comunicación sobre el protocolo. Compé. Revista Científica de Comunicación, Protocolo y Eventos, 1, 156-173.
Gómez Requejo, M. (2017, junio 27). La importancia de los blogs en la divulgación/difusión del protocolo. El caso "Protocol bloggers point". Revista Estudios Institucionales, 4(6), 117-136. Retrieved from http://revistas.uned.es/index.php/EEII/article/view/18862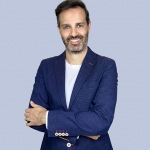 Writer by Daniel Delmás, Professional of events and protocol.
15 February 2022, The Netherlands
Category: Protocol 
Reference: DD15022022P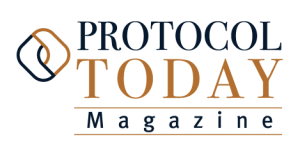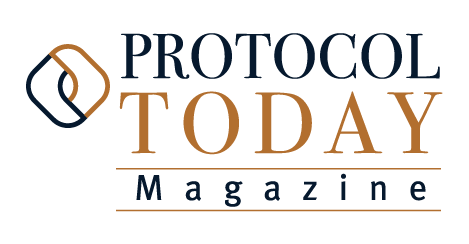 "Somos una empresa de desarrollo de capacidades que conecta valores, culturas, organizaciones, individuos y sociedades en todo el mundo"