For more than 20 years, it is a term that has been gaining global significance as new technologies advance by leaps and bounds. Some societies adopted other similar names, but their function is the same. Coming from the apocope "Net" (Network) and "Etiquette", "NETIQUETTE" is a worldwide base to take care of good behavior on the network. Today, we can share a lot of information on this topic in the many spaces that distance communication and online information media permit us.
While ICT's world grows up, a new world for communication and information has emerged, that created the need to establish rules to facilitate and optimize the use of new technologies and networks in all their forms, even more In these times when the whole world has been forced to be on the net for contact, meetings, work, studies, and information exchange.
All these rules are based on general concepts of respect and a good level of communication. We understand that being non-face-to-face means of communication, we frequently forget that our voice tone, our expressions, and our gestures cannot be transmitted accurately; and whoever receives our messages cannot objectively judge our motives and intentions or, maybe they could misinterpret them if we do not express it optimally.
Within this global sphere of relationships, a vast majority have fully learned that, on the other side of our electronic devices, there is a world of people with different cultures, religions, beliefs, and positions. For this reason, we must apply respect, common sense, and good education to conduct ourselves in a space in which everyone fits and in which everyone deserves the tolerance and good treatment above our particular position. Then, this remembers us, that the consideration that we expect from others to us, is the same consideration that we must give to others.
In addition, our good education and training are visible in our actions and this is increased in the networks; that is, if we are used to being respectful and considerate to others in our face-to-face life, we will surely show the same online. But, when this does not happen, our bad behavior transcends in a more notorious way. Under this analysis, the use of "Netiquette" is important so we all learn to conduct ourselves with the necessary correction.
Definitely, globalization has opened great and unthinkable possibilities of benefits in the network, but we also find a big dark side. We are not always going to be in contact with polite people or with similar principles as ours; for this reason, undervalues like respect, tolerance, and good spirits, prudence must prevail to create and maintain reflective links with those people with whom we do not interact personally, either in a particular aspect or in the business world.
Initially, thanks to a publication of the Institute of Informatics Ethics (CEI – Computer Ethics Institute); – considered as the most prominent organization for ethical computer use in the United States, founded in 1985 by IBM and other important institutions, among them, Washington Consulting Group-, in 1992, they made the hallmark "The commandments for Computer Ethics" created by Ramón C. Barquin.[1]
These commandments became popular in recent years to persuade good behavior and ethics at the use of a computer. However, over time they have undergone some modifications and at present, I have taken the liberty of making an adaptation for the use of ICTs, considering that a large part of the population has access to a cellphone or other connected electronic devices to the Internet.
These ethics commandments are:
You will not use an ICT to harm others;
You will not interfere with the work of others;
You are not going to meddle in other people's files or ICT files;
You will not use an ICT to steal or carry out fraud;
You will not use an ICT to discredit, defame or publish unreliable information;
You will not use software that is not legal;
You will not use the computer resources of another person without their authorization;
You will not appropriate other people's intellectual work;
You should think about the social consequences of the program you write or the system you are designing;
You should use ICT in ways that show consideration and respect.
Today, these commandments have become a small base of ethics for the world of "Netiquette", since the networks had arisen from a computer and spread to thousands of social sites, chats, forums, emails, blogs, different types of meetings, and endless connections in which our knowledge and behavior online are tested. With time, there are other rules that are adapted according to the needs that arise with modernity and technology.
As a reference, we must mention the book "Netiquette" published by Virginia Shea in 1994 that contains "The core rules of Netiquette"[2] and the publication of Sally Hambridge as a directive of Intel in 1995, an official document like a guide to the company employees, to behave on the Internet.
We might recognize that thanks to today's technology, great capacities had been acquired. Let's assume that the Internet has given us growing power and, therefore, it must be handled with great responsibility.
[1] http://www.ethicscodescollection.org/detail/411d6362-5ab5-438b-82de-7a3575412f40
[2] https://coursedesign.colostate.edu/obj/corerulesnet.html
Written by Claudia STOHMANN R. de A. Communicator, speaker, writer, etiquette and protocol expert, and ProtocolToday writer. 
26 August 2021, Bolivia 
Category: Business Etiquette
Reference: CS260821BE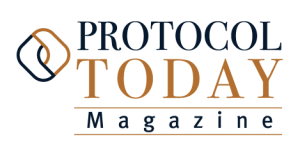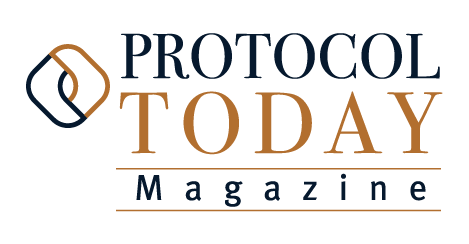 ProtocolToday is an expert organization, Founded by professionals with years of experience in Cultural Intelligence and Soft Diplomacy. They offer well-researched training programs to help you prepare for the international presence. Enhance your abilities to dine, converse, and present at an international stage.
Become discreet and make your mark!